Our Nutrition and Wellness services (including our custom Meal Plans) encourage folks to incorporate batch cooking as a part of their weekly meal planning. But what the heck is batch cooking anyway? What do we mean when we say that batch cooking can be a helpful trick for eating healthfully with minimal stress and time dedicated to cooking? If you haven't heard of batch cooking (or meal planning), or you simply want to know more about it, read on to learn about this helpful practice!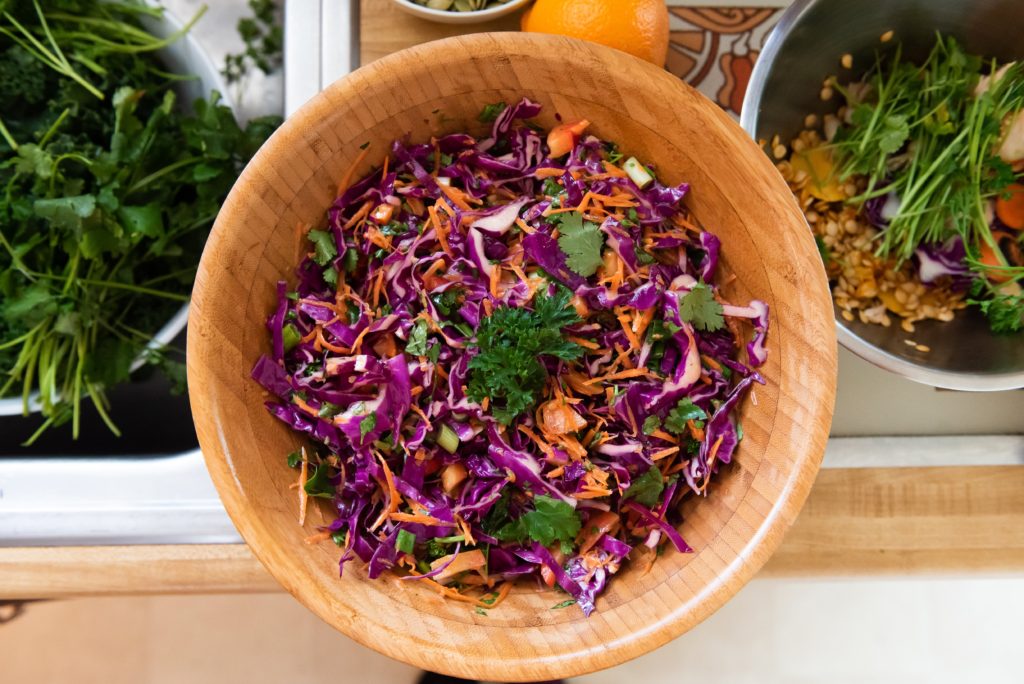 First, let's start off with defining batch cooking and meal planning…
Batch Cooking: Batch cooking is a method of cooking that involves making large batches of a recipe with the intention of having leftovers to enjoy throughout the week. If you have certain recipes you like, try doubling or tripling them so that you can count on the leftovers for subsequent meals. Batch cooking can also include preparing large amounts of certain whole food staples to build meals throughout the week for quicker meal prep. For example: Cooking up several servings of quinoa, roasting several chicken breasts, and roasting sweet potatoes, broccoli, squash, and brussels sprouts on your meal prep day which you can then use to build a nourishing dinner bowl or lunch salad with for multiple days. (For more ideas/examples, keep reading!)
Meal Planning: Meal planning involves planning out your meals and snacks for the week to streamline cooking and weekly grocery shopping. Meal planning is based around batch cooking by selecting a handful of recipes or meal ingredients that you are going to prep for that week and then shopping and cooking accordingly.
Why Should You Meal Plan/Batch Cook?
Whether you're busy with work/school, running around with the kids, have an irregular work schedule, or all of the above, batch cooking and meal planning can save you a lot of time, energy, money, and stress while keeping you on track for eating healthy and achieving your goals. While asking you to dedicate a few hours each week to meal planning and prepping may sound unrealistic, it is truly one of the most efficient ways to enjoy healthy meals each day. Meal planning and batch cooking can save you from relying on drive-thru/fast foods (which ultimately cost you more money than grocery shopping would), skipping meals, or asking the troublesome question of "what can I/we eat for dinner?" after a long day.
So why should you meal plan? Let's break it down:
Saves money on food costs compared to eating out
Encourages efficient and cost-effective grocery shopping (shopping with your meals in mind)
Reduces food waste
Saves you time cooking– spending one afternoon cooking for a whole week vs. having to cook for 1-2 hours each day
Great for taking meals on the go
Enjoy healthy, home-cooked meals that align with your values and health-related goals
Takes away the stress of figuring out what to eat each day
Encourages variety in what you eat each day/week
You don't have to enjoy cooking or be a master chef to meal prep- but if you stick with it, you may find yourself getting into the groove so to speak
Meal planning and batch cooking is one of our Nutrition and Wellness Educator, Sara's favorite healthy living tips to teach. She's been incorporating meal planning and prep into her weekly routine ever since she was in college. As a busy student, working two jobs, and trying to make the most of her college experience while prioritizing her health, she says that batch cooking and meal planning were her ultimate tools for success. She hopes that this simple practice can help her clients and you as much as it helped her!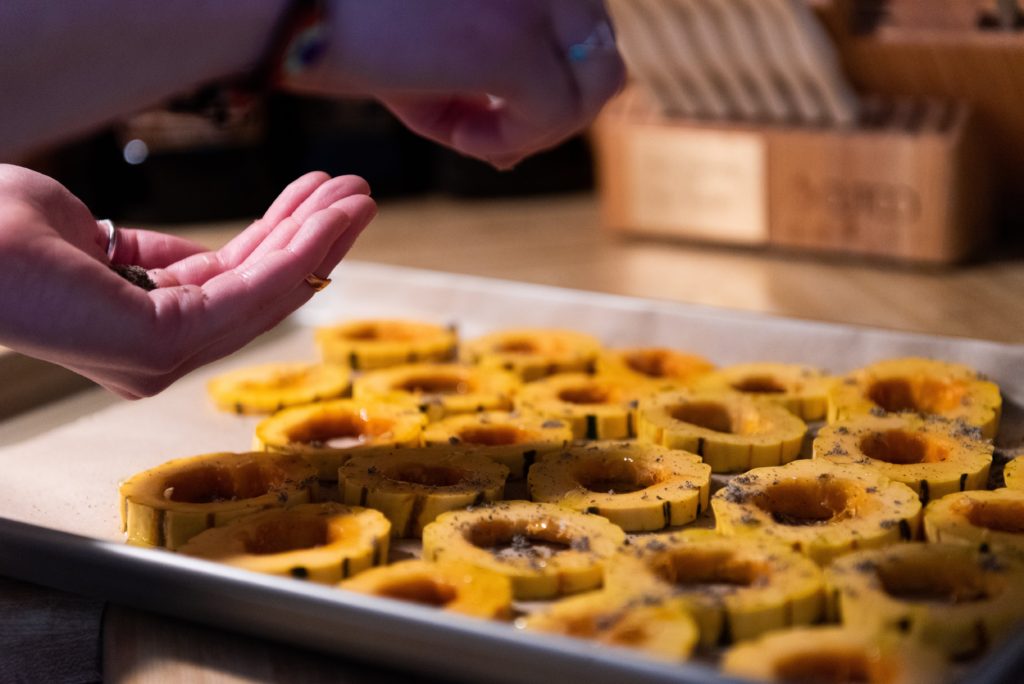 How Do I Start Meal Planning and Batch Cooking?
The easiest way to start is by picking out some of your favorite healthy recipes and trying them out! If you're new to the whole meal planning game or you're not much of a cook, feel free to start off with just making one nutritious meal each week. When starting to batch cook and meal plan, it might be helpful to think of the meals where you are most in need of having things prepared ahead of time. Say you're usually good about having a nice breakfast before work but where you really struggle is with lunches and dinners. Picking meal staples and recipes that you could use for the weeks lunches and dinners would be the best place to start!
Here are some of the basic things you need to start meal planning and batch cooking:
Storage containers of various sizes, preferably glass
Snack bags and storage bags (Ziploc or beeswax)
Food processor and/or a high speed blender
Several large mixing bowls
Large baking sheets/pans
Large and small glass jars (i.e. Mason Jars)
The willingness to try new things and get creative!
Just a little bit of time and patience
And, if you're anything like us, some good music to cook and dance to and/or a dog to supervise and taste test
Once you pick out the recipe(s) and/or the staple ingredients that you want to prep for the week, you can build your shopping list and get down to it! When cooking from recipes, make sure to check how many servings the original recipe makes so you know whether or not to double it or even triple it to ensure you have enough leftovers to enjoy for the week! Be sure to choose recipes that are whole foods-based (i.e. mostly made up of vegetables, high-quality animal protein or plant-based protein, fruits, legumes, and whole grains) and meet any other dietary requisites you may have (i.e. vegetarian, gluten-free, paleo, low-sugar, minimally processed, etc.). The rest is simply (or not so simply) dedicating the time to cooking what you plan for. Our Nutrition and Wellness Educator, Sara, suggests having a consistent day/time that is purely for meal planning and batch cooking. For Sara this is Monday mornings- she will often plan and shop for her meals over the weekend then spend 1-2 hours on Monday morning prepping her meals for the rest of the week. The key, she says, is finding what works best for you and staying consistent.
Following recipes can be helpful, but sometimes making a whole, large meal all at once isn't feasible. That's why prepping a healthy variety of meal staples can be a real lifesaver! But what do we mean by this? Let's break it down with some more examples:
Staples for Breakfasts:
Oatmeal or homemade muesli
Peeled and frozen bananas and other frozen/fresh fruit for quick and easy smoothies
Poached or hard-boiled eggs
A loaf of your favorite whole-grain, gluten-free, and/or keto-friendly bread, toasted and topped with sliced or mashed avocado
Overnight chia seed pudding with berries and walnuts
Staples for Lunches/Dinners:
Large salads with favorite vegetable toppings (hold the dressing- only dress each serving just before enjoying to prevent it from getting soggy)
Raw, frozen vegetables for a quick stir fry
Homemade salad dressings, vinaigrette or tahini dressing
Cooked grains such as quinoa, brown rice, buckwheat, millet, or farro
Cooked high-quality, organic animal proteins such as chicken, beef, salmon, hard-boiled eggs, trout, or tuna/ tuna salad
Prepared plant-based proteins such as chickpeas, organic tofu, organic tempeh, black beans, or lentils
Soups, stews, or crock-pot meals that you can throw together in a flash
Dips, sauces, and other condiments such as hummus, guacamole, nut butters, tahini dip, or salsa
Staples for Snacks:
Sliced apples with almond butter, grapes, or oranges
Sliced vegetables with hummus or other dip
Roasted nuts or homemade trail mix using raw nuts, seeds, and dried fruit
Homemade protein bars or granola balls (or high-quality store-bought bars, reading labels will be key)
It's important to not season any one meal staple too much when prepping it. That way it can be more versatile! Season, sweeten, or spice things or top them with your favorite dressing or sauce as you prepare them so that you can enjoy a variety of flavors rather than eating the same meal each day (which can get boring!).
One More Thing…
One-Bowl Meals:
One-Bowl Meals are one of Sara's favorite go-tos during a busy week. They can be easily thrown together- prefect for a quick dinner after a long day- and can help you make make the most out of your week's meal staples. She suggests a simple formula for building a satisfying, nourishing meal using whatever staples you've got on hand. Here's how Sara suggests you build a One Bowl Meal:
Base (either a grain like quinoa or greens) + vegetable carbohydrate (roasted or raw veggies) + protein (animal protein or vegetarian protein) + healthy fat (avocado, nuts or seeds, tahini, or olive oil) + seasonings/garnish of choice (nutritional yeast, fresh pepper, nuts or seeds, herbs, sauce, or dressing)
Enjoy!
If you feel overwhelmed or unsure, consider sitting down with Sara and talking through ways you can fit meal prepping into your life! Or consider signing up for one of our custom meal plans if you are someone who likes more guidance and structure.